Administrator
Staff member
After losing Annie earlier this year, it's been a bit quiet. We got a cat, but a cat isn't a dog, epecially a dog like Annie (or Guinness or Cozy or Daisy...) so when an 8-month old Newfoundland showed up in a local rescue shelter, we drove over to check him out.
He was a monster, and not in the "my, what a big dog you have" kind of way. He was just bad. Apparently his first owners were in their 70s and couldn't handle him so they gave him up. When we took him for a walk at the shelter, he humped and jumped and nipped and was generally a PITA to everyone involved. This is me checking to see I could see a good dog in there: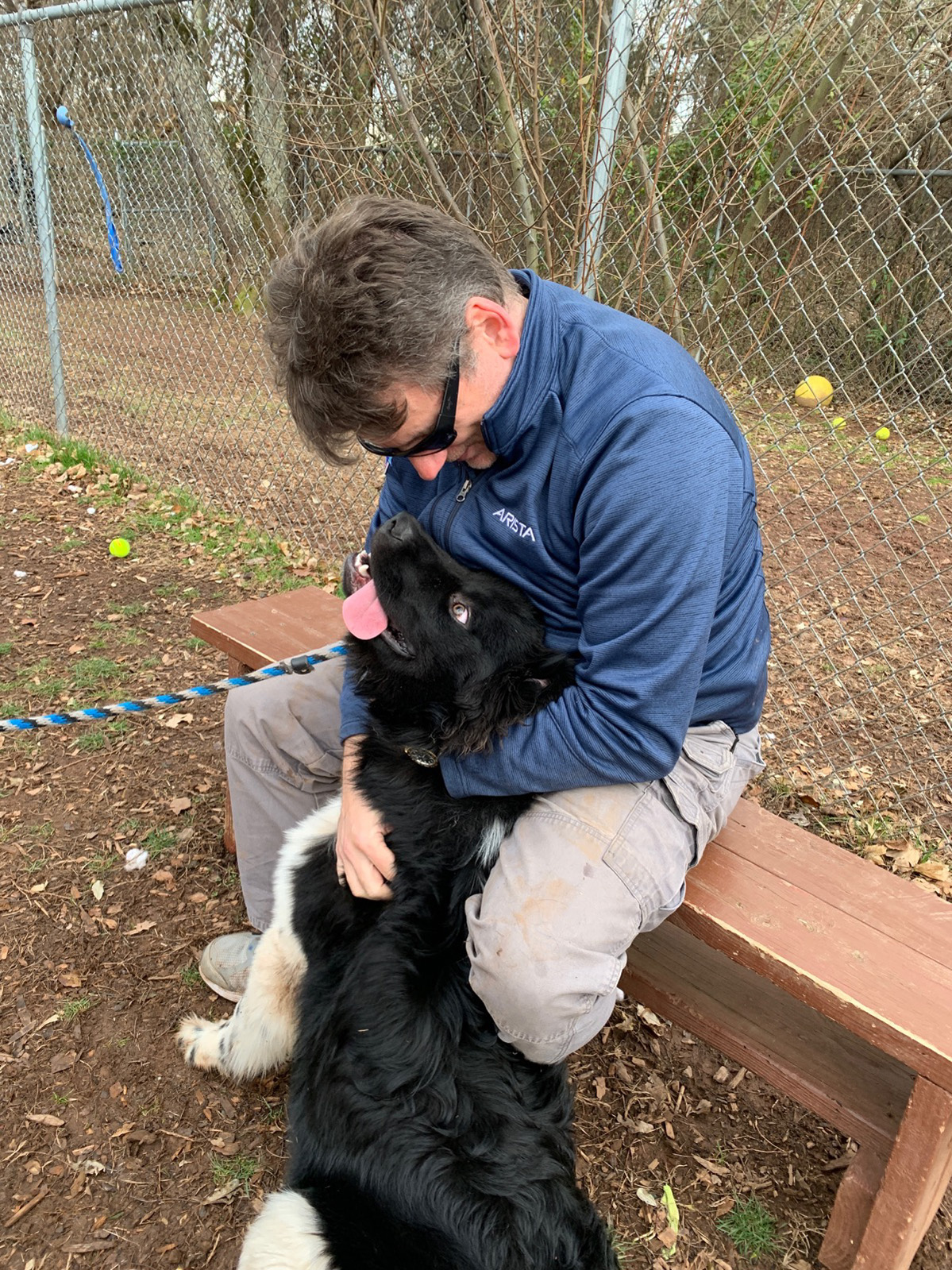 BTW look at the mud on my pants. They had just come out of the dryer that morning. That's all from him.
This is him maybe 30 seconds later: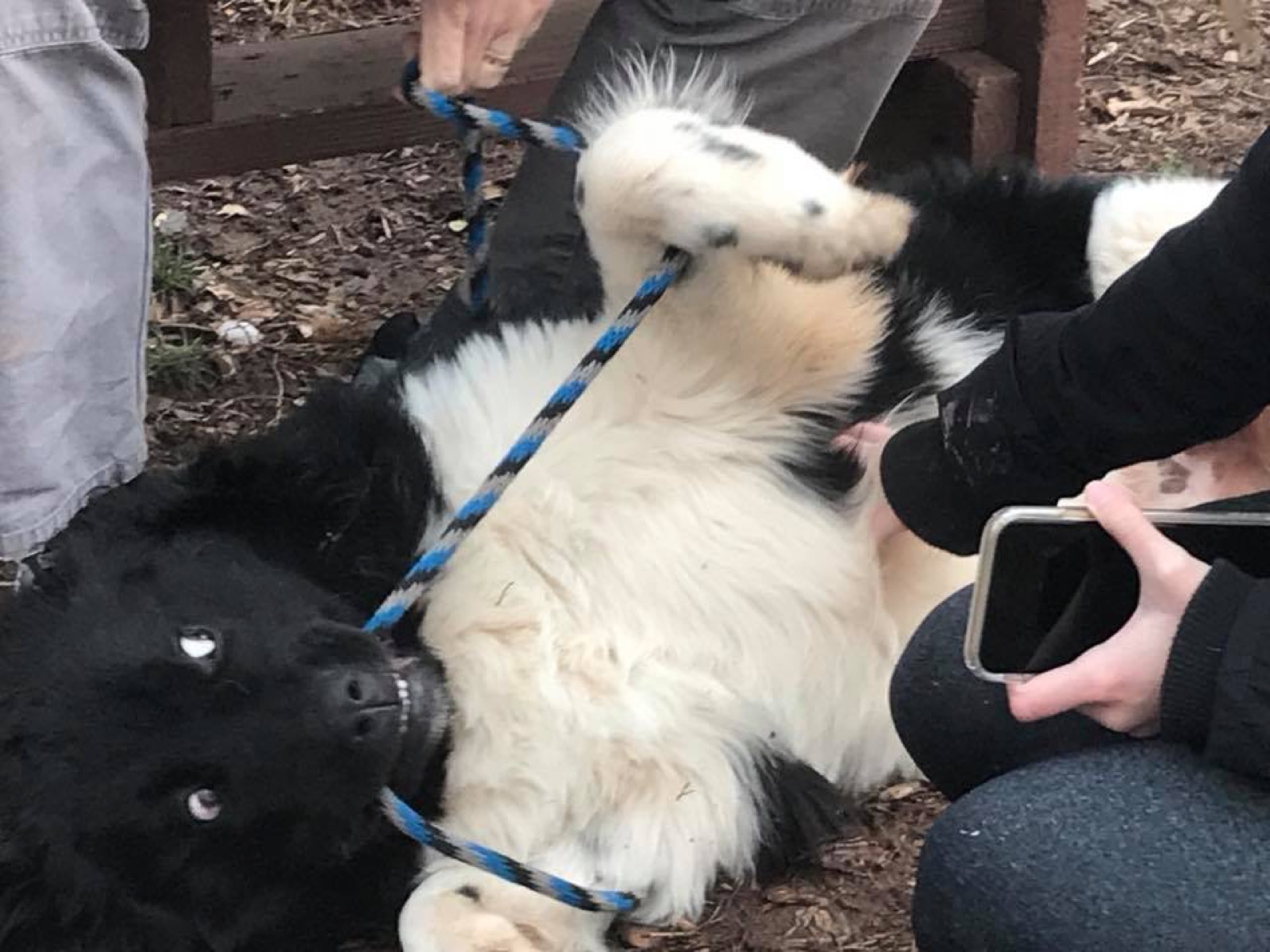 We decided to take him home because I thought he was just pushing his boundaries with people that didn't know how to handle a 90-pound pubescent Newf.
The best way I could describe him on his first day is that he was a bipolar athletic teenage boy on a cocaine bender. He was *crazy*, but what he needed was someone to be the alpha, and that someone was me.
His first day I brought him outside to chase the ball and he ran for probably 40 minutes non-stop no doubt because he had been in a kennel for nine days - and had been neutered only four days prior! He was a monster who had an annoying habit of running behind you and nipping your ass. Not cool. . He jumped and lunged and nipped and nipped harder than he should, and I calmly and repeatedly taught him what was OK and what was not.
And he learned.
He had his moments, and he pushed his boundaries like any teenager would, but he learned, and the good boy started to shine. Here he is on one of the only good pics on day one because he started lunging at the camera after which we took a break for some quiet contemplation.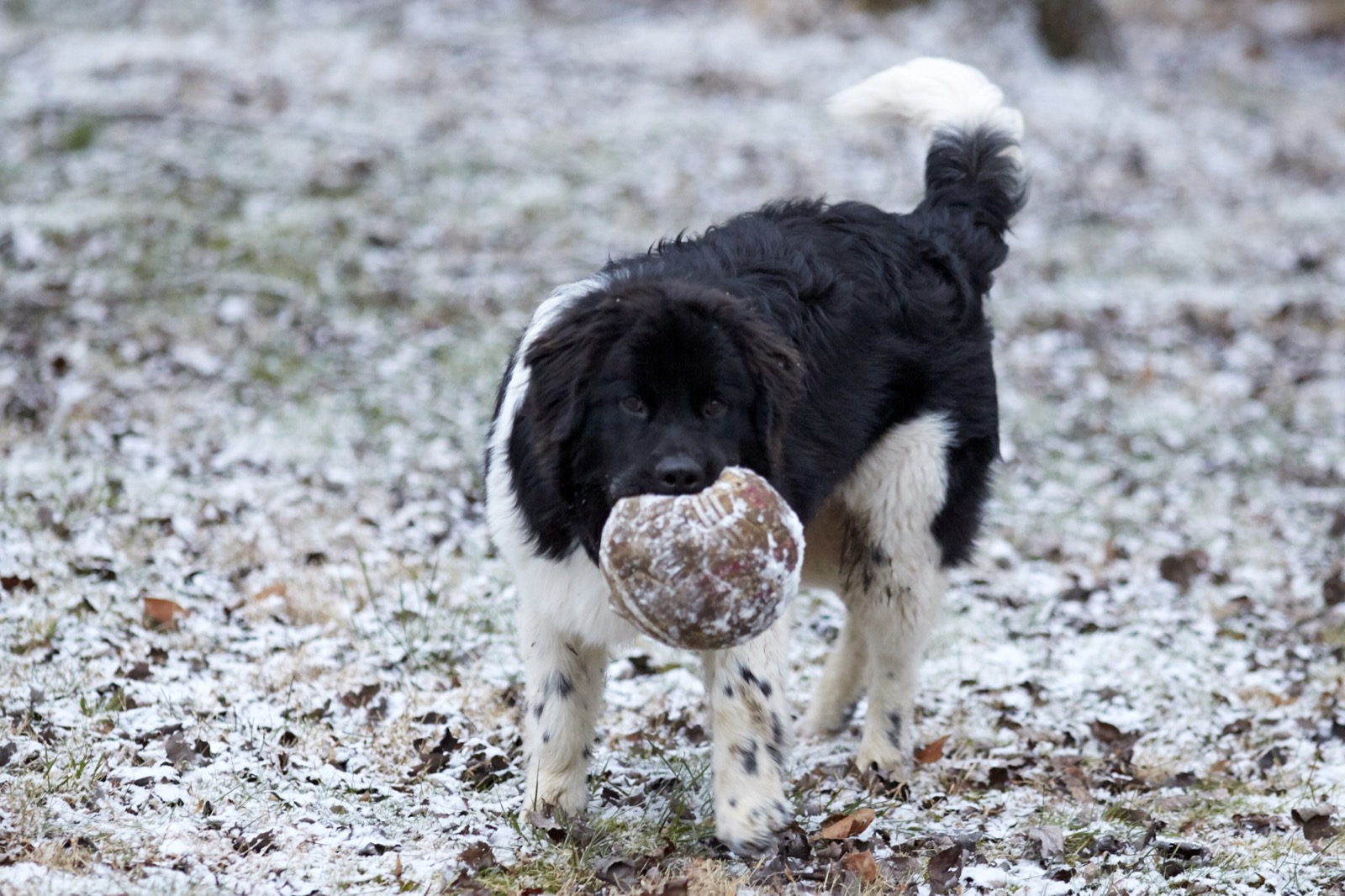 He and I had some moments, and I had to explain to him that he was not the first dog to try me, and that he was not going to win and after two days the good boy started to win out. He has learned not to jump, not to lunge, he doesn't bite, and he's working very hard on not nibbling. He sits, he's learned "down", he'll drop the ball for me (85% of the time), and he now gives kisses instead of nipping.
Here are some pics from today: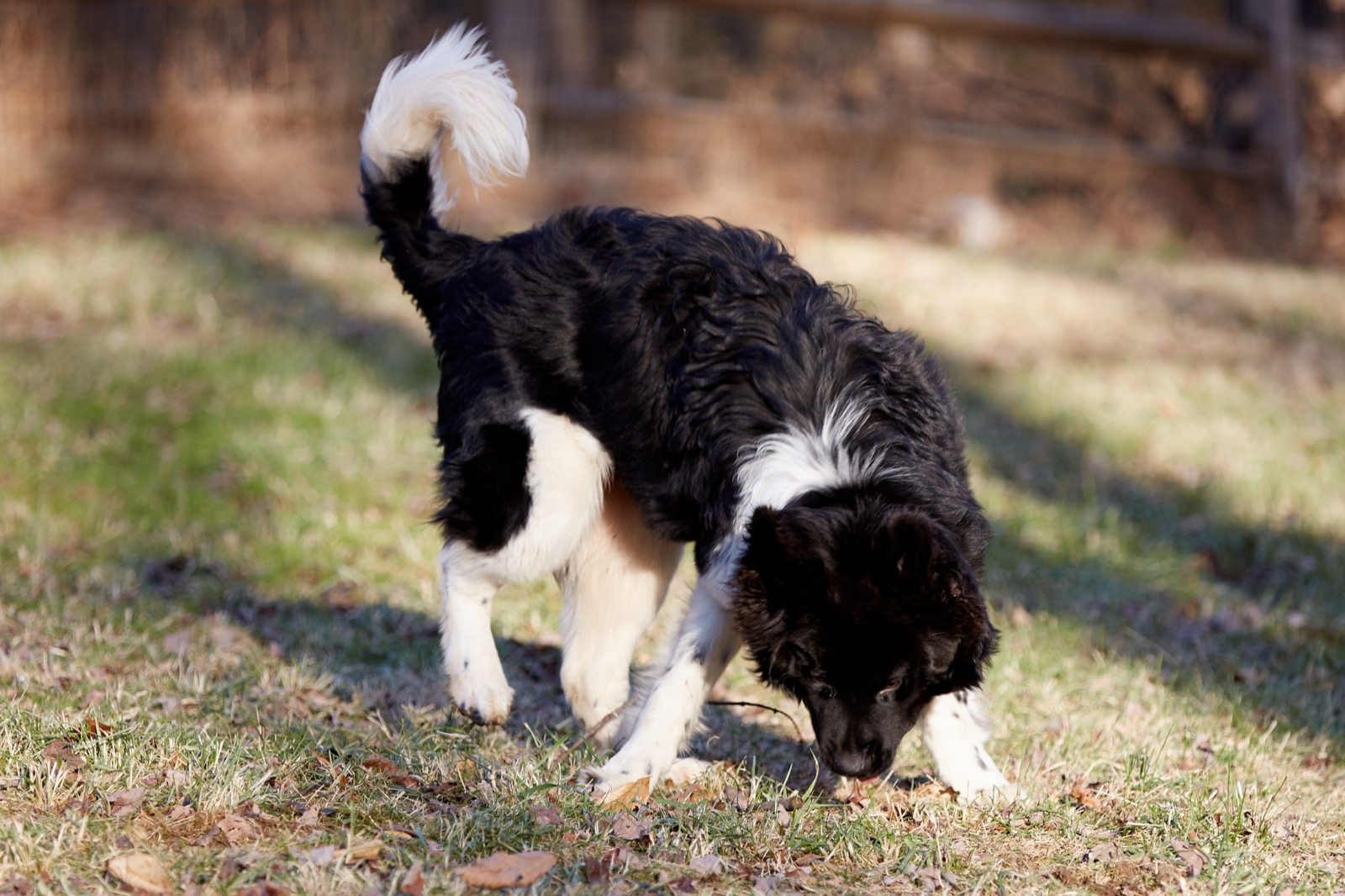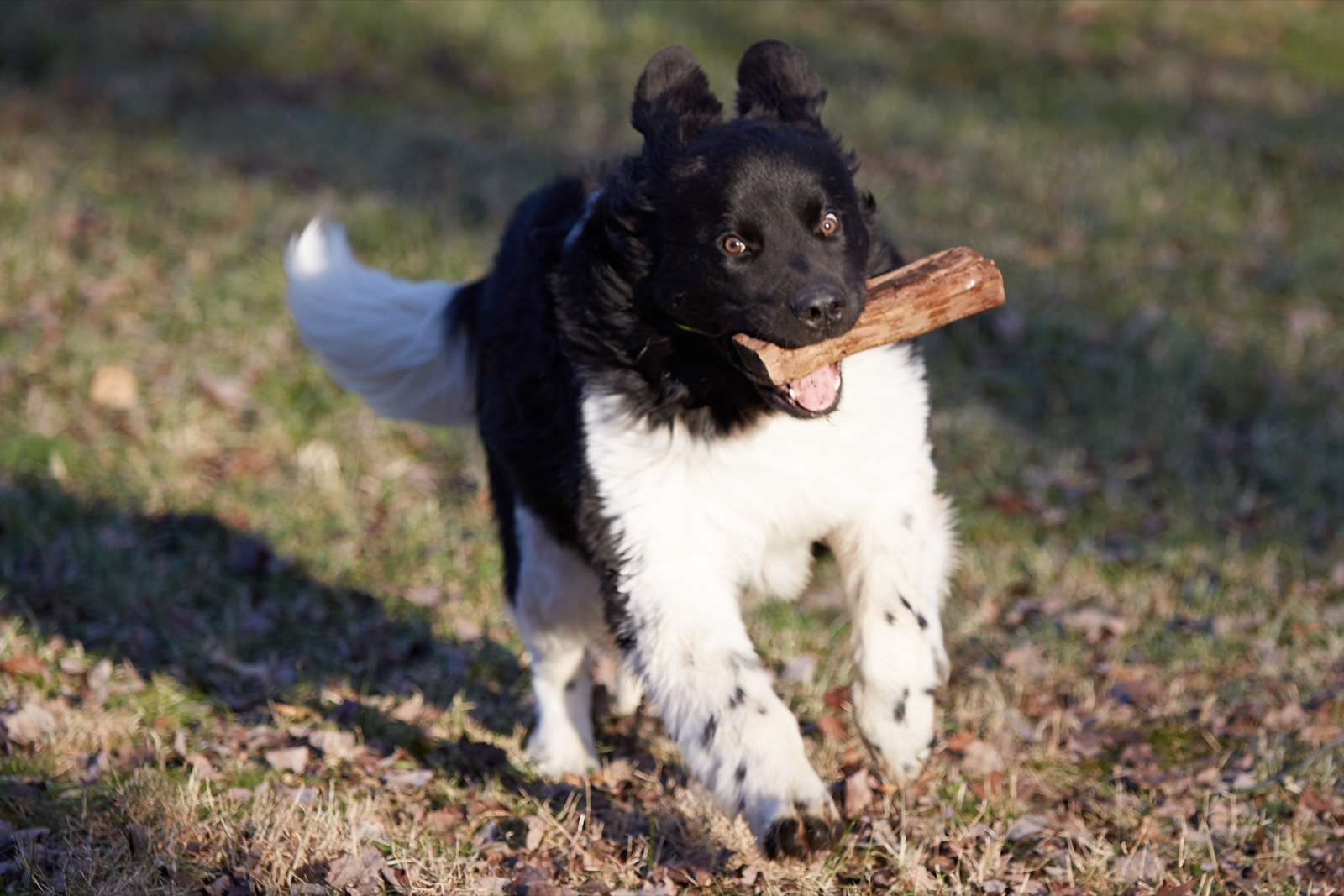 He and the cat are still a work in progress, but we're getting there, too.
He is 100% a dopey lovable Newf and when he's being relatively sedate he is an absolute angel. Teenage antics aside, he has progressed amazingly well in the few days we've had him, and we have every reason to believe that he will be a wonderful addition to the family.