Had not logged in here for a bit, and last time before the other day, the forums were broke. Glad to see it back, since I was looking for a picture from 2009 and found.
Anyway, when the Governor of Illinois decided for people to shelter in place back in March, I asked my friend Debbie who is the rescue coordinator for River King Newf Club, if I could *borrow* her almost 10 year old foster Cougar. He weighs in about 130 pounds.
He had been in her care for over 2 years so we knew each other. He has been hard to adopt based on age, and required to be in a only pet home. He also is quirky on various floorings. He has a weird history on ownership and who cared for him since the owner moved to Hawaii. I think I heard he was also a outside dog at these homes. Anyway there were some dog fights over food/toys and I heard one care giver got bit. I think that is when the guy in Hawaii gave him to rescue.
Anyway, my friend has 2 newfs of her own. Cougar pretty much had to stay in the basement kennel area for fosters, though did come in the house while the other was crated so he did get some quality human time. They tried to get me to adopt him, but after Snuffles passed I decided not to get another pet till I knew where life was taking me. "Grandma's" health was deteriorating, I did not want the responsibilities of a dog, since when Mom passes, I do not want this house and really would hate to relocate depending on my options with a big dog. Also I sure enjoy not having Vet bills.
BTW Mom turned 96 on the 1st and is in a assisted living facility now for about 2.5 years. We did have a scare back in July thinking Mom might get admitted to the hospital from the ER, and since I had given Debbie a key incase something happened, she could easily get Cougar. I called, and he went back with her for a couple of nights. That was nice not to have a second worry.
So anyway, I thought if Cougar had good house manners, maybe I could borrow him. So as of March 24th, I have had another Newf in the house. Hehe, no bills though, other than treats. I really did not plan to keep him this long, but with the pandemic, and me trying to stay Covid free, by not going out, it gives me a purpose. He WILL go back in the winter. If old timers remember, I slipped on the ice walking Snuffles, because no fenced yard, tore up my knee and got clots in my lungs. I can't let that happen again.
Cougar is really a fine house dog. I started crating him, but quit I bet after a few days. Though his tail caught a small vase and broke it (since moved low stuff higher), he doesn't bother things, only one accident and VERY people sweet, even toddlers. If he doesn't like something I am doing to him, no aggression at all, but just tries to get away. He is a lot more droolier than Snuffles and is a chow hound. Loves hand outs..meat, bread, fruit, vegetables. Snuffles would be turning over in his grave, if he knew how much I Iightened up on hand outs. LOL.
If anyone is interested in giving Cougar a permanent home in his golden years, contact River King. He seems pretty healthy and spry, though on Denamarin for bad liver readings. He has been test twice since I had him, the last, a week ago, and the numbers are all normal both times and we cut from 3 pills to 2. The Vet was willing to try none, but they just bought a 90 day supply, so still doing 2.
I am attaching some pictures....I hope on this new platform. Like I said Debbie and her husband wanted me to adopt Cougar. I was over there one night last August for dinner. I go to leave and see him tied to my car. The rest are since I have *borrowed* him.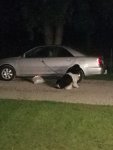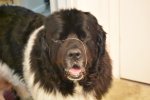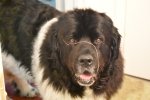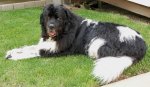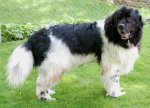 Last edited: